UPMC PINNACLE FOUNDATION
UPMC Pinnacle Foundation is a nonprofit, charitable organization committed to providing the best health care possible and to investing in the people and communities around us.
APPRECIATE GREAT EMPLOYEE PROGRAM
The UPMC Pinnacle Foundation is committing $250,000 to show our appreciation for our employees in both clinical and non-clinical settings, giving all departments the opportunity to participate and have some fun!
Grateful Patient Story
Honoring Dr. Abrishamchian and the Cardiology Team at UPMC Pinnacle Harrisburg
"Through the process, no matter how scared I was for being so young and this being so unexpected, every health professional did everything they could to make sure I was comfortable."
---
Full Story >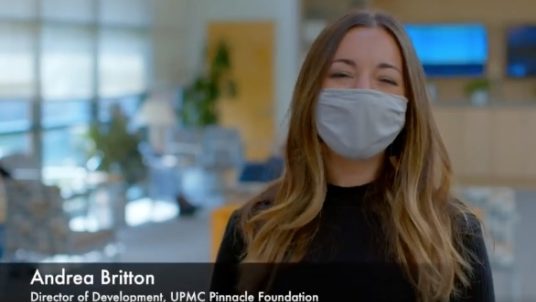 NEWS
Nov 23, 2021
The UPMC Pinnacle Foundation will be participating in the Lancaster County Community Foundation Extraordinary Give this year for the first time with a very specific goal: to build a small, but mighty Community Closet for those in need at UPMC Lititz.
FULL POST >
NEWS
Nov 23, 2021
The UPMC Pinnacle Foundation's goal for the 1st Annual Day of Gratitude was to collect as many incredible stories and words of thanks from UPMC of Central Pa patients as possible — to share life-changing generosity that helps spark courage and strength and reminds us why our caregivers are so important. It has been a challenging time for doctors, nurses, frontline workers, and staff, and it is impossible to overlook the power of gratitude, positivity, and encouragement.
FULL POST >
Impact Story
Nov 23, 2021
The UPMC Pinnacle Foundation is committed to improving community health by supporting programs like CDSD NutriPacks in the Central Dauphin School District.
FULL STORY >