Annual Reports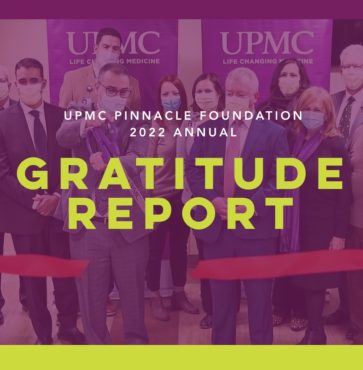 2022 Annual Report
In 2022, we cared for patients in need and built a healthier and safer community in Central Pa., and we couldn't have done it without you.
To read about the incredible things you made possible this year, we invite you to read our full 2022 gratitude report at bit.ly/gratitudereport2022
Thank you for making this work possible. We are grateful for you!
---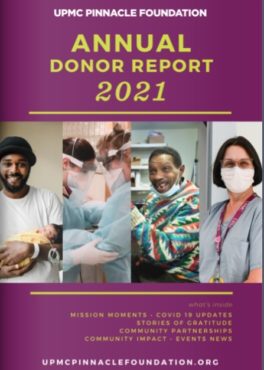 2021 Annual Report
The common theme throughout the past year at the UPMC Pinnacle Foundation has been gratitude. Gratitude for the neighbors in our community who have rallied around us, for our dedicated staff who continue to work tirelessly to care for our patients, and for donors like you who generously support us and make this work possible, even during otherwise uncertain times.
---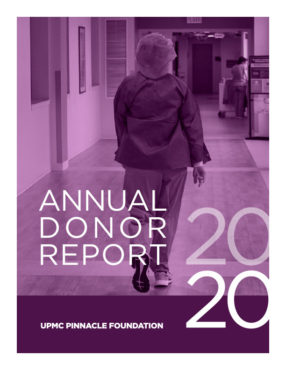 2020 Annual Report
In this report, you'll read updates about the amazing things we have been able to do thanks to donor support of the COVID-19 Emergency Relief Fund, and about the generosity of the central PA community during this difficult year. You'll read about gifts to the community that take health and wellness beyond the hospital, about the opening of our new pediatric unit, and much more.
---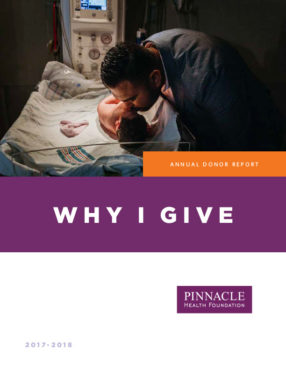 2018 Annual Report
Throughout this report, you will meet donors who share why they give back. These stories help to reignite our passion and purpose here at UPMC Pinnacle. We hope they do the same for you. If you have not yet discovered the ways in which UPMC Pinnacle and the Foundation touch the community at large, we invite you to read on and join us in making a difference.