UPMC Child Advocacy Center of Central Pa.
The UPMC Child Advocacy Center of Central Pa. (CAC), formerly known as the Children's Resource Center is one of the oldest child advocacy centers in Pennsylvania.
It is the only child advocacy center serving Dauphin, Lebanon, Cumberland, Perry, Mifflin, Juniata, and Schuylkill Counties.
The CAC sees 1,400 children annually and is in the top 10% nationally for the number of children served.
The center provides forensic interviews, specialized medical care, and mental health services to children who have experienced sexual or physical abuse, neglect, or who have witnessed a violent crime.
Children who come to the CAC report feeling a huge weight has been lifted from their shoulders. Children describe feeling empowered after an appointment, especially because they realize they aren't alone.
All gifts made to the Child Advocacy Center Fund will be used to support:
capital equipment purchases
employee education
construction/renovation at facilities
purchase furnishings
provide educational programming resources for abused children
provide indigent patient funds to patients treated at the CAC
"The CAC is the first place they felt heard, validated, and believed."
"My kids walked out with a confidence I haven't seen before."
---
---
Pinwheels for Prevention
UPMC in Central Pa is proud to participate in Pinwheels for Prevention during Child Abuse Awareness Month in April.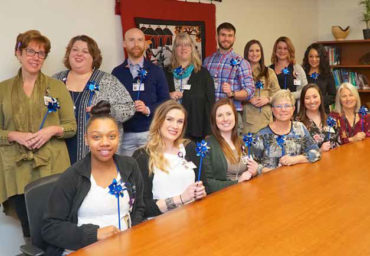 This nationwide campaign raises awareness of child abuse prevention with the image of the blue pinwheel, and throughout the month of April, you'll see them on the lawns of several of our hospitals as part of this important campaign.

The pinwheel is a symbol of the bright childhood all children deserve; one filled with hope and possibility. Sadly, that isn't always the one they experience. This month, please join us and make a difference in the lives of children who need it most by making a gift to the UPMC Child Advocacy Center of Central Pa (CAC).
The CAC provides resources, specialized medical care, and mental health services to more than 1,300 children annually who have experienced abuse or neglect. Each CAC appointment costs $1,000 to $1,500, but families never receive a bill for the care they receive.
Your generosity makes this healing possible, ensuring all children have a chance for the brighter tomorrow that they deserve.
Give children a chance for a brighter tomorrow.