View All News >
UPMC Pinnacle Harrisburg NICU Family Donates $100,000 to Foundation's Little Roo Fund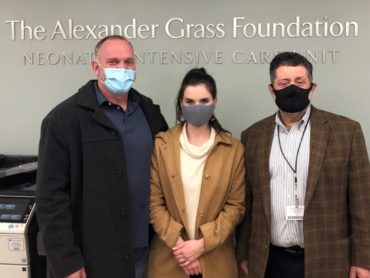 UPMC Pinnacle Foundation recently accepted a $100,000 donation from Patrick Mooney to the Little Roo Fund to recognize the care provided to his daughter 24 years ago in the UPMC Pinnacle Harrisburg Neonatal Intensive Care Unit (NICU).
Emily was born on February 23, 1996—nine weeks before her due date. She was immediately whisked away to the NICU where she spent the next five and a half weeks of her early life.
"When we arrived, we had no idea labor had already started. We should have had another 10 weeks to go. Thankfully, the doctors administered medications to help Emily's lungs develop, and two days later she was born, weighing just three pounds. I have no doubt that had it not been for the Level 3 NICU, my baby girl would have struggled a lot more. This hospital saved my daughter. I knew I owed her life to them," said Pat.
After Emily was successfully discharged from the NICU, Pat started to calculate what it would have cost for her care had they not had insurance. He looked at those bills and made a promise to himself that someday if he were able to "pay it forward," he would find a way to thank the team who gave so much to Emily in those early weeks.
That moment arrived this winter, when Pat, who now lives in Florida, and Emily traveled back to Pennsylvania to see the newly constructed Alexander Grass Foundation NICU and present their $100,000 donation to the UPMC Pinnacle Foundation's Little Roo Fund.
"I am thrilled to finally fulfill my dream of thanking the NICU team at UPMC Pinnacle Harrisburg for my daughter," said Pat.
The UPMC Pinnacle Foundation Little Roo Fund supports the ongoing needs of NICU babies and their families, as well staff training and development.
"We are honored that the Mooney family expressed their gratitude by helping other families who need UPMC NICU services," said Jessica Ritchie, vice president, UPMC Pinnacle Foundation. "The timing of their generosity connects directly to our Foundation's Year of Gratitude campaign, a year-long initiative to recognize our incredible UPMC staff and let them know just how grateful patients are for them."
2020 was a challenging year for health care workers, which is why the UPMC Pinnacle Foundation embarked on a Year of Gratitude. The Foundation's goal is to collect 365 messages of appreciation through the Grateful Patient Program and receive 365 life-changing gifts made in honor of the exceptional care UPMC Pinnacle staff delivers each day.