View All News >
UPMC in Central Pa. Healthy Harrisburg Programming Builds Community and Challenges Health Disparities One Class At A Time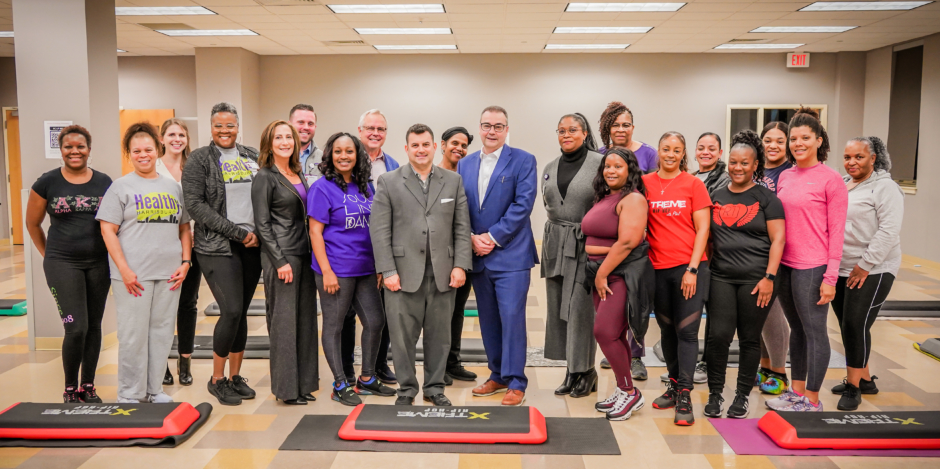 On Monday, November 14 at Campus Square in downtown Harrisburg, UPMC in Central Pa. CEO Lou Baverso, UPMC in Central Pa. Mission Effectiveness leadership, and Healthy Harrisburg program sponsors came together to witness a Healthy Harrisburg Xtreme Hip Hop class in action. Taught by instructor Robin Marshall, this mainstay of the Healthy Harrisburg program offers fitness and fun, at no cost, to many city residents.
"The classes are very successful, for all fitness levels and all ages," said Robin. "I have enjoyed my experience," said Nicole, a Healthy Harrisburg participant. "I looked forward to it every week... The energy, the wonderful music, and the amazing teacher made me forget for an hour about the craziness of the world."
But Healthy Harrisburg isn't just about fitness. The program works to challenge health disparities by addressing chronic disease in vulnerable and underserved populations and providing opportunities to stay active with workshops and classes like line dancing, strength training, African dance, or Xtreme Hip Hop step. These programs are free of charge thanks to the support of many community partners, including Capital Blue Cross. The most recent Healthy Harrisburg cohort of participants had 152 registrants and counting - the most the program has had to date. A survey of that most recent cohort showed that participants were looking to address high blood pressure, obesity, diabetes, and more.
As of 2022, 28% of the population in the City of Harrisburg is categorized as obese, and community members often face significant barriers in accessing care as a result of being either uninsured or underinsured. Healthy Harrisburg not only provides opportunities for healthy activity, but enrollment specialists are available to help participants get proper access to insurance that fits their needs. "Black and brown women have higher rates of hypertension, diabetes, and stroke. Healthy Harrisburg envisions a healthier future for women of color. Where they make empowered choices that lead to healthier lifestyles." said Kristal Turner-Childs, Fempowered LLC & Healthy Harrisburg Program Ambassador
Looking ahead, Healthy Harrisburg aims to increase family involvement and partnership with the Harrisburg School District, identify new talent to expand across the Central PA area, expand into the Lancaster-Lititz area and introduce prenatal fitness care in partnership with doula services, among many other goals.
To learn more about the ways the UPMC Pinnacle Foundation supports UPMC in Central Pa. and your local community at upmcpinnaclefoundation.org.