View All News >
UPMC PINNACLE FOUNDATION COMMITTED TO A SENSORY-FRIENDLY EXPERIENCE AT CHILDREN'S HARRISBURG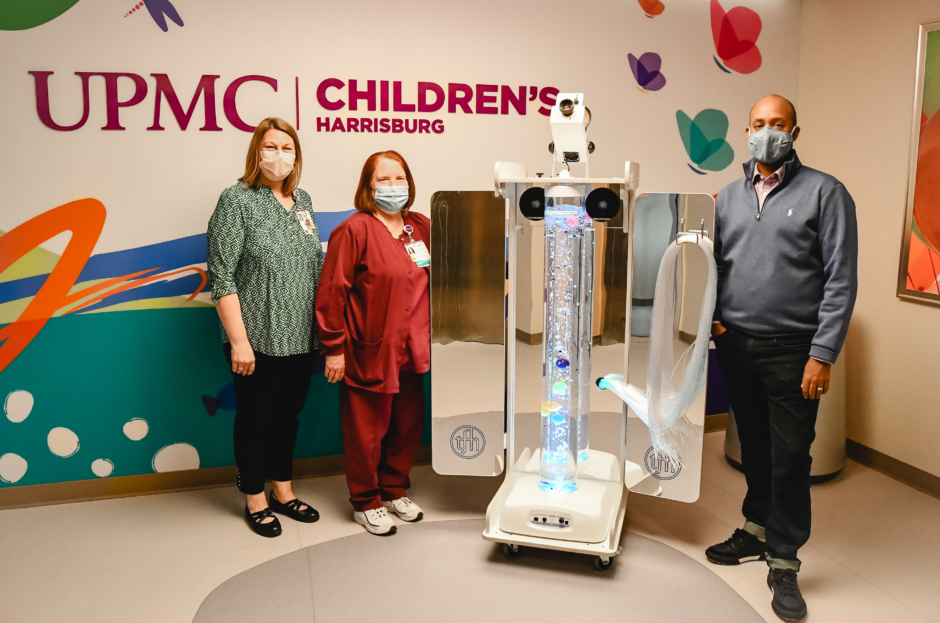 HARRISBURG, Pa. (Mar. 22, 2021) – UPMC Children's Harrisburg recently acquired a Vecta Deluxe Mobile Sensory Station, provided by the UPMC Pinnacle Foundation Child Life Fund.
Aimed to relax, distract, and uplift children with sensory disabilities during medical procedures, the Vecta Deluxe Mobile Sensory Station features an aromatherapy diffuser, dynamic fiber optic tails, an LED projector that displays calming fluid patterns, an interactive colorful bubble tube, and stereo capabilities. While the Vecta caters towards children aged 2-10, it has also proven to help soothe and comfort older children with intellectual disabilities and cognitive limitations before, after, and during medical procedures. "There are kids here who would not have come out of their rooms if not for this machine," says Lead Child Life Specialist Sandra Schreffler.
Although the UPMC Pinnacle Foundation has provided a variety of other interactive, sensory-friendly toys and tools, the Vecta has already proven its impact at UPMC Children's Harrisburg. "We are so blessed to have the support of the Foundation. Collaboration to improve the experience of kids in the hospital is so important… The Vecta is a much larger tool to reduce the impact of trauma for kids." Sandra said.
The UPMC Pinnacle Foundation Child Life Fund was designed to meet the needs of the Pediatrics Department at UPMC Pinnacle hospitals, by providing educational and entertainment items, staff training, recreational and therapeutic equipment, and more about the new addition. "The Foundation is committed to the wellbeing of the children in our community and making sure they are as comfortable as possible when they have to spend time under our roof, and the Vecta Machine makes that possible," Meron said. "The Foundation is appreciative to have the opportunity to help."